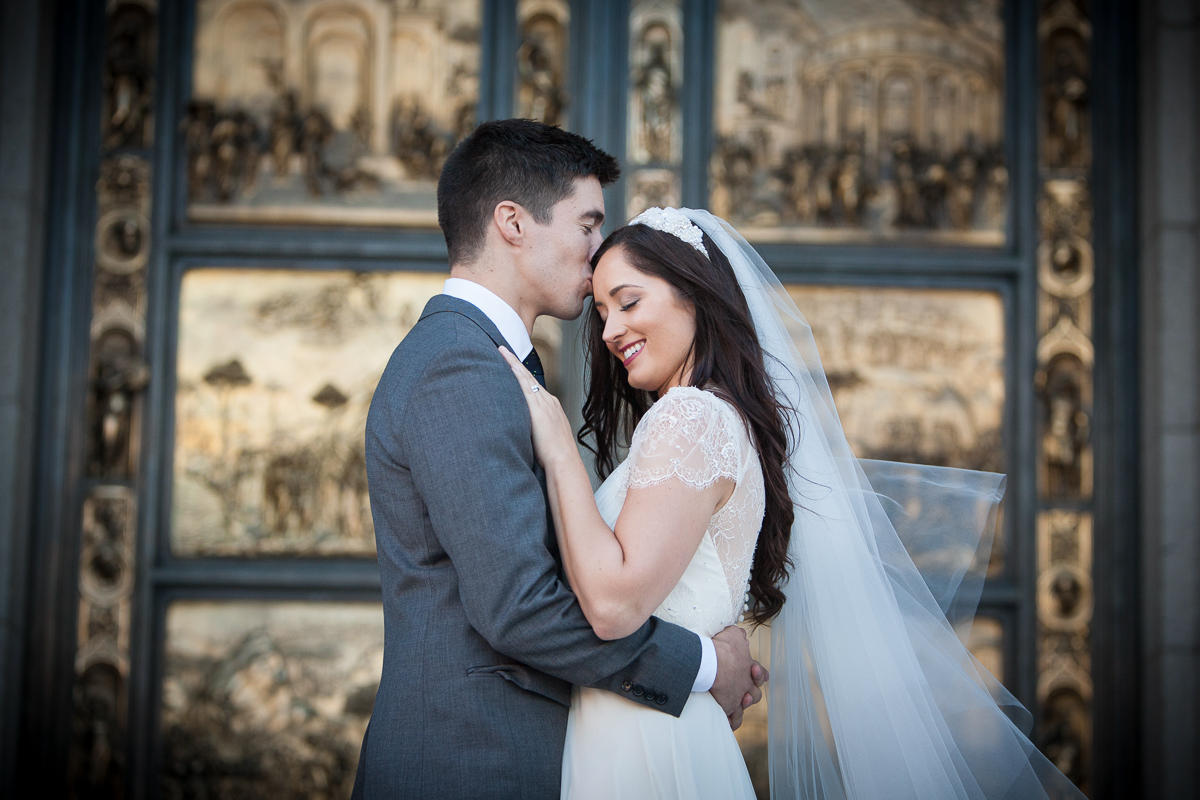 I loved Carly and Nick's Fairmont San Francisco Wedding. The two met through mutual friends at the University of Oregon their junior year. Nick apparently didn't register Carly's subtle flirting, "Carly used the classic, 'Don't we have classes together?' pick up line, to which I replied, 'Nope. Don't think so!' and walked away […] Good news is I thought she was pretty cool so I asked a friend for her number."
The two had been together almost ten years, and, two months after they got engaged, now living and working in San Francisco, a neighbor in the house next door started a fire that left Carly and Nick without a home. "We lost pretty much everything…I can't lie, it was pretty awful but glad we had each other to get through it. It's situations like this that make you glad you have a partner in life and only brought us closer together." Nick's parents live close to San Francisco and Carly and Nick reached out to them for support. 'Nothing like getting engaged and having to move back in with your parents! Not ideal, but my parents are awesome."
It took nearly two years for their apartment to be rebuilt, and the whole experience reaffirmed just how much family meant to Carly and Nick. Everyone helped out with the wedding planning. "We finally moved back into the apartment shortly after our wedding. It really felt like the start of a new life for us!" says Carly.
Carly and Nick knew they wanted to get married in San Francisco, and it would be a destination wedding for many of their guests, most of whom lived outside of the city, or were from the Portland, Oregon area. They really wanted everyone to be able to experience the city they love. They chose Grace Cathedral, an iconic San Francisco church and wedding venue that sits at the top of Nob Hill. They loved the tradition of Grace Cathedral and couldn't have been happier working with Rev. Jude who became a great counselor and friend through the wedding process. They chose the Fairmont Hotel, just across the park from the Cathedral. This was a significant location for Nick because his dad, George, had long worked for Fairmont corporate. They already felt very comfortable with Mr. Klein and the entire staff and knew they'd be well cared for. "We fell in love with the Penthouse suite from the first time we set foot inside […] The views of the city from the balcony are spectacular. We could not think of a better place to host our guests and celebrate!"
Many thanks to Annalee at Bash Creative for the planning and decor, and thank you Curtis Meyers for photographing the wedding with me.
Fairmont San Francisco Wedding
San Francisco Wedding Venue ~ Fairmont Hotel & Grace Cathedral
San Francisco Wedding Photographer ~ Nathan Cordova Studios (click here to contact)
Fairmont San Francisco Wedding
San Francisco Wedding Venue ~ Fairmont Hotel & Grace Cathedral
San Francisco Wedding Photographer ~ Nathan Cordova Studios (click here to contact)
Fairmont San Francisco Wedding
San Francisco Wedding Venue ~ Fairmont Hotel & Grace Cathedral
San Francisco Wedding Photographer ~ Nathan Cordova Studios (click here to contact)
Fairmont San Francisco Wedding
San Francisco Wedding Venue ~ Fairmont Hotel & Grace Cathedral
San Francisco Wedding Photographer ~ Nathan Cordova Studios (click here to contact)
Fairmont San Francisco Wedding
San Francisco Wedding Venue ~ Fairmont Hotel & Grace Cathedral
San Francisco Wedding Photographer ~ Nathan Cordova Studios (click here to contact)
Fairmont San Francisco Wedding
San Francisco Wedding Venue ~ Fairmont Hotel & Grace Cathedral
San Francisco Wedding Photographer ~ Nathan Cordova Studios (click here to contact)
Fairmont San Francisco Wedding
San Francisco Wedding Venue ~ Fairmont Hotel & Grace Cathedral
San Francisco Wedding Photographer ~ Nathan Cordova Studios (click here to contact)
Fairmont San Francisco Wedding
San Francisco Wedding Venue ~ Fairmont Hotel & Grace Cathedral
San Francisco Wedding Photographer ~ Nathan Cordova Studios (click here to contact)